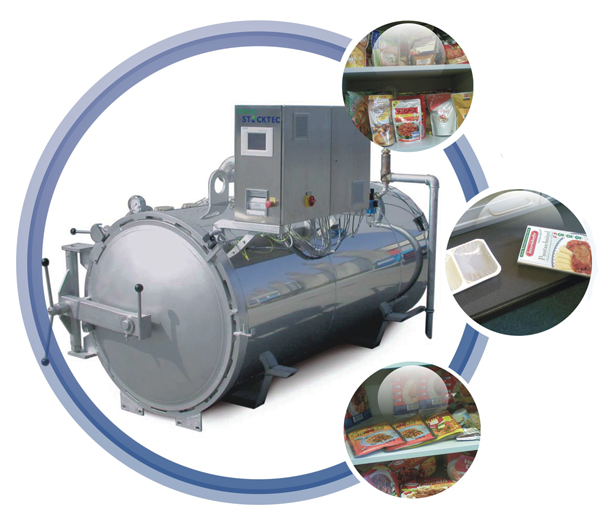 DESIGNED FOR NEW PACKAGING
flexibility in Pasteurisation and sterilisation
NEW RETORT-CONCEPT
a system for multiple requirements
PRODUCT QUALITY
process fidelity, short cycle times

Today's markets continuously demand new packaging materials for the presentation of shelf stable foodstuffs. Custom tailored solutions, convincing with regard to economics, performance and quality, are more important than ever. Based on more than 100 years of experience and a steady, innovative development of automated systems, STOCK offers individually designed solutions to customers. First-class references around the globe rely on this proven Technology.
Now STOCK Retorts are manufactured in India by STERDILL with technical Know-how from Germany.
Steam-Spray-Counter pressure Retort Concept
When steam and water consumption have highest priority and the container material is suitable for direct contact with Oxygen in the heating phase, the steam-spray process is the optimal solution.
Directly injected steam blends with fine droplets of the water spray and results in an extremely homogeneous heat transfer environment throughout the whole autoclave. As water jets spray into the cages from the sides as well, even and rapid cooling, also of comparatively flat containers, is safely achieved.
Quick heating, uniform heat distribution, rapid and even cooling. Low electricity, steam and water consumption. Safe counterpressure control during all process phases. Optimal operation also with part loads. Assured process fidelity. Suitable for different types and sizes of cages.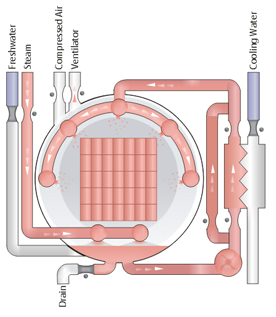 » The main advantages of the steam-spray system.
» Only a small amount of process water is required, circulated by a high performance pump.
» Temperature distribution in the retort better than 1oC.
» Cooling in sterile process water (option : heat exchanger) no chlorination required.

Variants for all requirements
Type
Diameter
Cages/gross volume litre
Autovap
DAZ 1100
2/730    4/1460
Autovap
DAZ 1400
2/1550   4/3100
Optionals :
Heat exchangers for Indirect Cooling significantly simplifies the incorporation of the retorts into energy and Water recovery systems Loading & unloading Equipments

As per your need
We also offer any other chamber dimensions/specifications designed for special applications/requirements.