High Pressure & HPHV type Horizontal Rectangular &
High Pressure & High Speed type Horizontal Cylindrical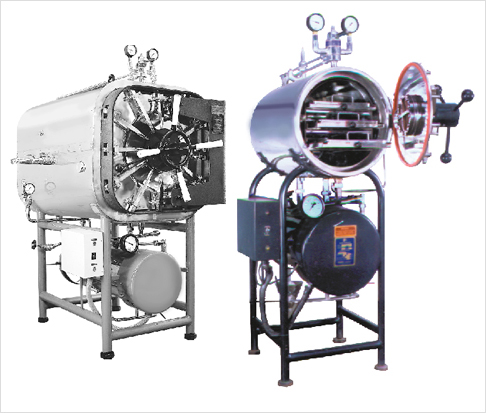 USES :
Fabwell Sterilizers are suitable for Hospitals, clinics, Laboratory etc. They are designed for safe & efficient sterilization of various items such as wrapped or unwrapped goods, instruments & utensils etc ..
CONSTRUCTION :
The sterilizer has double walled (inner chamber & Jacket) type design, which allows preheating of chamber by jacket steam.
The chamber is constructed of heavy-duty stainless steel 304/316.
DOORS :
The Sterilizer is supplied with single door or double doors made of 304/316 S .S. The door has provision, which prevents. opening of door when the chamber is under pressure.
Fittings
Multi-Port Main Operating Valve

To control from one point various phases of entire sterilization Cycle such as:
Steam entry to the Chamber, Exhaust the chamber steam with selection of 2-speeds "Slow" or "Fast" depending upon the type of load; Vacuum drying of load by creating partial vacuum in chamber, break the vacuum and to attain atmospheric pressure;
Plug Screen in the Chamber (in front)
To prevent the choking of the discharge line with solids; It is easily removable for regular cleaning.
A Thermostatic Steam Trap/Air Vent
Fitted in chamber discharge line for automatic removal of air and chamber condensate intermittently.
S.S. Perforated Bottom Shelf
In chamber, to avoid the load from coming in contact with condensate.
S.S. Baffle Plate
Fitted in the chamber in front of the steam inlet for proper distribution of steam in the chamber and to avoid the entering steam from directly hitting onto the load.
Powerful Ejector
For creating partial vacuum in chamber
Self Sterilizing Vacuum Dryer
Having a corrosive-resistant filter to admit only dry filtered hot air into the chamber to avoid contamination of sterilized load.
Vacuum Breaker
Fitted to jacket to prevent possible buckling of jacket because of accidental vacuum created due to abnormal condensation of steam.
The piping is of stainless steel 304 complete with necessary valves and instrumentation etc, All pipe connections will be of BSP type.
STEAM GENERATOR :
Autoclave can be supplied with 304/316 S. S. steam generator operable on elec./steam coil.
It has safety features such as low water cut off, pressure control etc.
HIGH SPEED TYPE .
Uses
For urgent need of sterilization of instruments etc. near operation theater, Cycle time is reduced by increasing the heating load of steam generator.
All other features will remain same
Instrument Rack (Optional item for High Speed units),
It is made of 304 SS & useful for loading & unloading of material into the chamber.
Accessories
Feed Water Arrangement
It is supplied with suitable feed water pump to feed the water when generator is under pressure.
PROCESS CONTROL UNIT :
Semi Automatic or Full automatic type
VACUUM SYTEM :
for effective air removal from Autoclave chamber.
STANDARDS :
The Sterilizers are manufactured & Tested in accordance with I.S.-3829 standard. It can be manufactured to comply with any other international standards.


*for units operated by steam supplied from the central boiler
** For Automatic process control units only