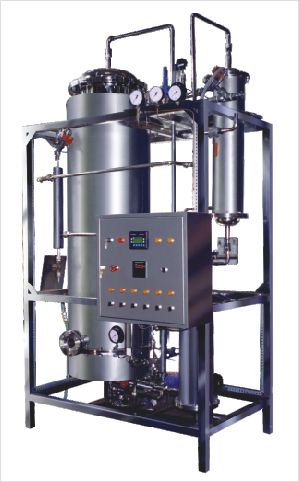 Fabwell Pure Steam Generator used in the Pharmaceutical Industry & Hospitals for Sterilization of certain Items such as fermenters, Filters, whenever any item that comes into direct contact with a sterile medicinal product is sterilized, Sterilization of Various Articles used in critical surgeries etc. Artwork is in same Size: 8.5" x 11"
OPERATING PRINCIPLE :

Feed water (D.M.) enters the system and flows through two Pre-Heaters where heat is transferred between the feedwater on the tube side. Then feed water enters the evaporator at a higher, more efficient temperature. The heated feedwater flows into the lower part of separator trough the tube side of the evaporator, and the level is controlled by two level indicator switches.
At the same time, supply steam enters the shell side of the evaporator. Heat energy from steam is transferred to the feedwater through the evaporator tubes. The Steam is thus comes out through separator in centrifugal form separating any impurities.
CONSTRUCTION :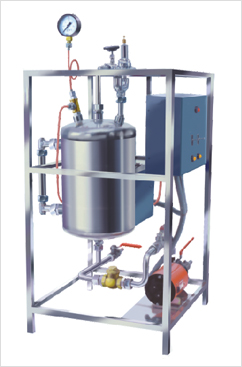 Designed to produce pyrogen free steam continuously as the design and the material used in the steam generator will greatly influence the steam quality.
High-grade stainless steel 316L or Teflon is used to the parts directly coming in contact with steam, as the pure steam generated is very aggressive and corrosive. Electro-polishing is done to inner surface.
Double Tube sheet type evaporator with seamless pipes. Insulation is made of Glass-wool & covered with polished 304 SS sheet.
Centrifugal pump made of 316 SS is used to feed the water at High pressure to the system Piping made of 316 SS complete with 316 SS pneumatically operated valves, Ball Valves, Rotameter, Feed water Conductivity Sensor etc.
PURE STEAM CONDENSER :
To produce small quantities of Distill Water (WFI) a small unit can be provided. It is connected to pure steam generated & cooling is done with the help of Raw Water.
ELECTRIC STEAM CONDENSER :
The unit can be supplied with suitable steam generator complete with immersion type Electric Heaters which are easily removable % its own control.
ACCESSORIES :
AUTOMATIC PROCESS CONTROL UNIT:
It can be provided with control unit based on advance PLC or Microprocessor technology housed in Stainless Steel Cabinet.
STANDARD MODELS :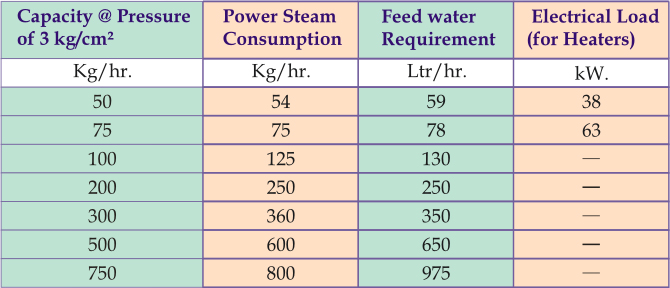 UTILITIES :
POWER STEAM : Saturated Steam at the pressure of 6 kg/ cm- from the Central Boiler Feed Water: The feed water used is usually softened, de-ionized or reverse osmosis (RO) water @, depending on quality of the steam required.
Electrical Requirement: 440 V, 3ph., 50 Hz. AC supply with Neutral.
As per your need We also offer customized machines designed for special applications.