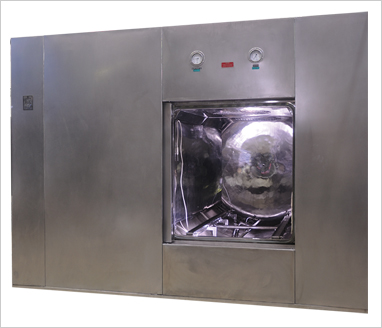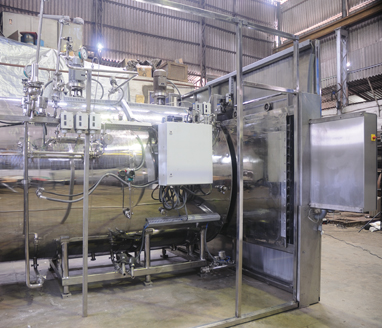 USES:
his counter pressure sterilizers are ideal for Pharmaceutical Companies, Laboratories, & Food Processing Industries, etc. They are designed for safe & efficient sterilization of various items such as Solutions in closed containers viz. ampoules, vial, glass bottles, PVC bottles, Syringes, Tubes, PE bottles, PP bottles, IV Bags, Semi-open containers, Blister Packing, Contact Lenses etc. & also for Pasteurization of products like Blood plasma.
"SWS" type where treatment is carried out with forced Superheated Water circulation with spray distribution system
STEAM+AIR MIXTURE "SAS" PROCESS :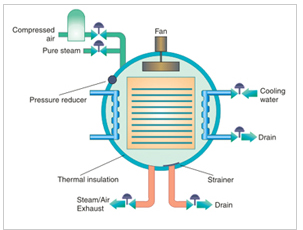 Steam enter the chamber while circulating fans ensures a proper temperature in the chamber. Sterilization is carried for preset temperature level & time.
Internal Heat exchangers supplied with cooling water the fan is rotated to achieve ventilating. Counter pressure is maintained as per SWS type system.
FEATURES :
Circulating Fans made of stainless steel mounted on the top or Horizontally.
Cooling coils located in the chamber are made of Stainless Steel
STEAM+AIR MIXTURE "SAS" PROCESS :
The chamber is of round cross-section constructed of heavy duty stainless steel 316L/316Ti to withstand pressure of 3 Kg/cm. It is insulated with Two rails are provided in the chamber bottom for easy loading & unloading of the material on Carriage.
The Sterilizer is supplied with single door or double doors made of 304/316 S.S. The doors are either manually operated Hinged type or having automatic electromechanical type sliding arrangement.
The Unit along with various accessories & piping is supported with Frame designed for proper load distribution on floor.
PIPING :
The piping & valves directly connected with chamber is of stainless steel 316 Proportional control Valve is provided for steam inlet for precise temperature control.
ACCESSORIES / OPTIONAL :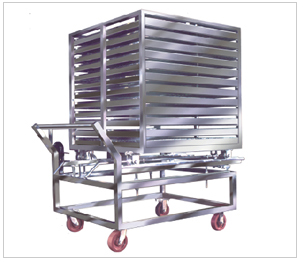 » The loading carriage is made of stainless steel 316 with specially designed trays, Floor trolleys made of S.S.
» Filter in-line Sterilization, in-line integrity testing.
» Vacuum system to use the sterilizer as autoclave system for porous load.
» Automatic Loading & Unloading.
» Load Rotating system for homogeneous heat transfer.
AUTOMATIC PROCESS CONTROL SYSTEM :
The control system is consisted of advance PLC & Printer. This unit controls complete sterilization by managing various parameters such as Fo, Temperature, pressure etc. It has an easy operator interface with possibilities of customization of cycles & manual operations.
The system gives complete process documentation with the help of in-built system.
Computerized control system (SCADA) to communicate with PLC for controlling & supervising the process externally.
(Optional Feature)

As per your need
We also offer any other chamber dimensions/specifications designed for special applications/requirements.