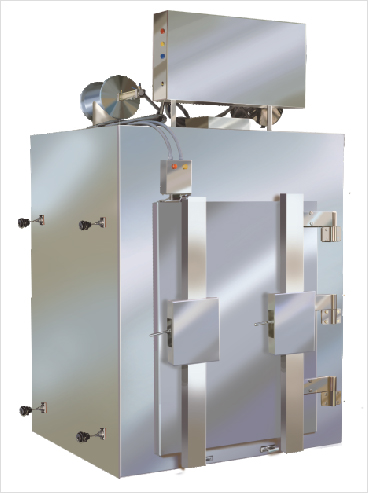 USES:
Fabwell Dry Heat Sterilizers-Depyrogenation units are ideal for Pharmaceutical and Allied Industries, Laboratories, Research Institutes, Food Industries, etc.
They are designed for safe & efficient sterilization-Depyrogenation of Ampoules & Vials, Rubber Stoppers, Medical Powder, Tablets, Granule drying etc.
CONSTRUCTION :
The Sterilizer is normally suitable to operate in temperature range of 160°C-180°C to 250°C/270°C.
The chamber is constructed for stainless steel 316 is having taper to achieve proper air circulation in sterilizer.
All inside contact parts are of stainless steel.
The chamber has Glass Wool insulation & it is covered with Stainless Steel Outer Cover.
This will reduce external unit temperature.
FITTINGS :

The Sterilizer is supplied with single door or double doors made of 304/316 S .S. The doors are provided with vertical latch arrangement for proper locking.
The Sterilizer is fitted with Stainless Steel Blower driven by the Motor for uniform circulation of air inside the chamber.
The sterilizer is supplied with pressure module with HEP A Filter.
This unit will maintain positive pressure inside to ensure
that no outside air enters the sterilizer.
The sterilizer is provided with exhaust duct with Pneumatic Dampers etc. The class-IOO type units are provided with HEPA filter in this duct to ensure maximum sterile integrity.
AUTOMATIC PROCESS CONTROL UNIT :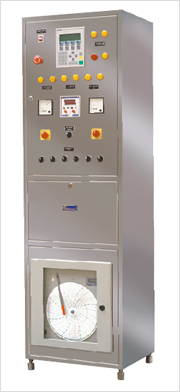 The control unit is housed in 304 S.5. Cabinet.
It is based on advance PLC or Microprocessor technology.
This unit control different sterilization cycles with the help of in -built different program combinations.
ACCESSORIES / OPTIONAL :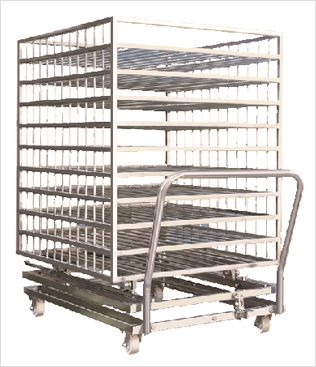 Sterilizer can be supplied with stainless steel removable shelves/ trays or with a loading carriage & trolleys.
The loading carriage is made of stainless steel pipe & provided with grill type shelves & has bearing for smooth movements. The trolley is made of S.S / M.S. has locking arrangement with carriage as well as with chamber.
Cooling Arrangement : Unit can be provided with cooling coil inside the chamber to quickly reduce the temperature inside the chamber.
Unit with Ciass-IOO type construction with High temperature HEP A filter provided inside the chamber.
STANDARD SIZES :

'for Dampers, Door locking cylinders etc. **for the unit with cooling coil arrangement only
As per your need
We offer Many chamber dimensions/ specifications designed for special applications/ requirements.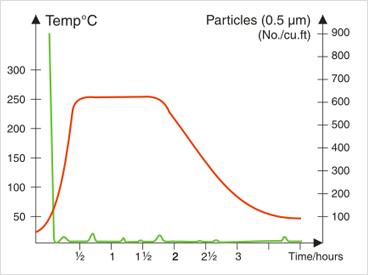 Cycle Details (For Class-IOO type unit) The fully automatic cycle performed in the sterilizer with heating, sterilizing and cooling phases.